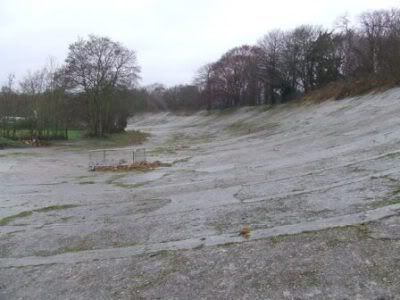 The first 'proper' post is of a place that's always captivated me and many others - Brooklands. Opened in 1907 near Weybridge, Surrey, by Hugh Locke-King, the 2.75 mile concrete banked oval circuit was the first purpose built motor racing circuit in the world. Although racing stopped during the First World War, it re-opened afterwards and kept going up until the start of the Second World War - expansion of the Vickers aircraft company on site meant the circuit was unable to re-open after the war. Although parts of the circuit remain, it has mostly been swallowed up by industrial buildings, and Mercedes-Benz now has a large display building called 'Mercedes-Benz World' with a small circuit near the museum. The museum is well worth a visit, displaying many interesting vehicles and aircraft - the aviation side of Brooklands started within the circuit in 1908.
Of interest is that the circuit was never actually completed - it was originally envisioned for it to be tarmacked to make the ride smoother for cars. These two photographs show the remaining part of the circuit nearest the museum, facing the direction the cars would have raced in. The website for the museum is
http://www.brooklandsmuseum.com/
. I'll post a couple more interesting exhibits at Brooklands over the next few days, but i'll leave it to you to visit and see the rest of them for yourself.