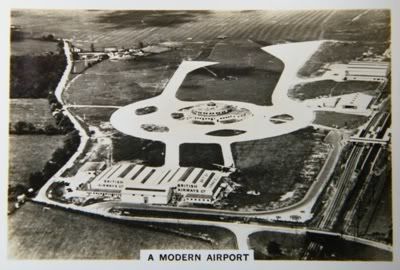 This Cigarette Card, one of the Flying series of 48 produced by Senior Services Cigarettes in 1938, shows 'A Modern Airport', in this case Gatwick. The centre of the photo shows the terminal building, known as 'The Beehive', built in Art Deco style and opened in 1936. The description of the airport, from the back of the Cigarette Card, says;
A MODERN AIRPORT.
Gatwick Airport, Surrey, is arranged on a plan permitting the Airport building to handle the maximum of passengers and aircraft without congestion. Telescoping covered passage ways, like spokes of a wheel, permit six aeroplanes to be loaded or unloaded at once. The Airport Railway Station is close alongside and an underground passage connects it with the Airport building. The concrete runways extending towards the field prevent ploughing of the surface near the buildings by heavy air traffic.
British Airways (the first one, which was later amalgamated with Imperial Airways, based at Croydon, to form the British Overseas Airways Corporation, or BOAC, in November 1939, which in turn was merged into British Airways in 1974) was based at Gatwick, and one of the images shows the aircraft hangars with BRITISH AIRWAYS Ltd painted on the sides and roof, with a Trimotor aircraft, probably a Fokker F.VII.
The modern Airport site is to the north of The Beehive, which fortunately still exists as offices, although the telescoping passageways are now long gone. For more information on The Beehive, see the Wikipedia page
here