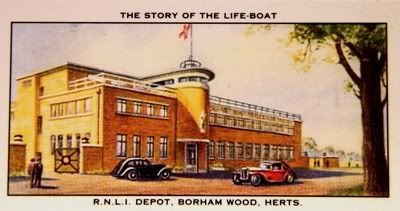 This fabulous art deco building is, as shown by the caption, the RNLI (Royal National Lifeboat Institution) Depot at Borehamwood, Hertfordshire. For those who do not know, since 1824 the RNLI has operated Lifeboat Stations around the coast of the United Kingdom and Ireland to rescue those from the sea (and in the last two decades, inland waters such as the River Thames and Loch Ness). The description on the back of the card, one of 50 from the Wills' 'The Story of the Life-Boat' series tells us;
R.N.L.I. DEPOT, BOREHAM WOOD, HERTS.
In July 1939, the Royal National Life-boat Institution opened a depot outside London to take the place of the storeyard which it had at Poplar from 1882 to 1939. The site at Boreham Wood was chosen because of its excellent facilities for road transport. The depot has workshops and stores covering a floor area of nearly one-and-a-quarter acres, and it is here that the equipment and rigging of life-boats are made and the life-boat engines repaired and tested. At the depot also there is a storeroom for the Institution's supplies for appealing to the public; it contains 40,000 collecting boxes in the form of life-boats, and the 11,000,000 paper emblems which the Institution uses each year on Life-boat flag days.
The end of the descriptive text mentions the RNLI appealing to the public – the RNLI is a charity, and relies on voluntary donations to continue to exist and save lives, and receives no Government funding like other emergency services, a very worthwhile cause. The RNLI depot was used until 1976, when the depot moved from Stirling Way, Borehamwood, to Poole, Dorset, where it remains to this day. Despite being hit by incendiary bombs in the Second World War, the depot exists to this day, and
this
article from the Oxford Mail dated 15th August 2001 mentions it being refurbished 'to offer self-storage units and offices'.
For a recent photo of the building, taken in 2007, click
here